We believe that innovation is the packaging design fashion fundamental. Apply using the mechanical design of products in today's market is not in circulation, if your appearance or packaging can not breathtaking, consumers will be ignored, and how to reflect the value of the product itself? Excellent package design should have artistic, poetic, able to communicate with consumers intuition and vision instantly grab consumers.
Milion Design focus on bottle design, nearly a decade bottle packaging design experience and expertise, currently has more than 20 professional bottle packaging designers can provide personalized services to customers custom design products in various industries, including: overall brand planning, market analysis, product planning, bottle-shaped design, product design, print and packaging design, product photography, product brochure design, marketing planning. Mei Lin mainly for emerging brand operators, with the slogan "Let every brands can have a unique design of the product!." Up to now, we have been providing over 80 brand operators personalized product design and brand planning services, involving daily beauty makeup, beauty salons, maternal and child products, food and beverages, chemicals and pharmaceuticals, liquor and other industries.
Professional design: various bottle-shaped packaging (washing, skin, hair, perfume, food, beverage, pharmaceutical, chemical, bottle) shape, bottle / pot / cup / pot / pots / boxes and other container products.
Incidental services: label printing and surface design, packaging box design, 3D simulation renderings, product promotion copywriting, product brochure design, product photography.
Services: production technical support, mold analysis, prototype production, patent applications, brand planning, market analysis, product positioning, marketing planning. Commissioned production services (OEM), to sample design and production (ODM).
● We offer the following three product development mode of cooperation:
1, commissioned to design a single product; 2, a series of new product development outsourcing; 3, equity development and design (pre-free planning and design, commission earnings after market sales)
Design costs will be quoted based on the actual needs of customers, to determine the intention of cooperation required to sign a cooperation agreement.
To develop new products, please choose a professional design company! If you need to custom design their own bottle-shaped packaging or products, please contact us:
Mobile:+86-013794102105 Tel :+86-0754-88137246 Skype: Yuho1001 E-mail: Yuho1001@126.com
Custom design process: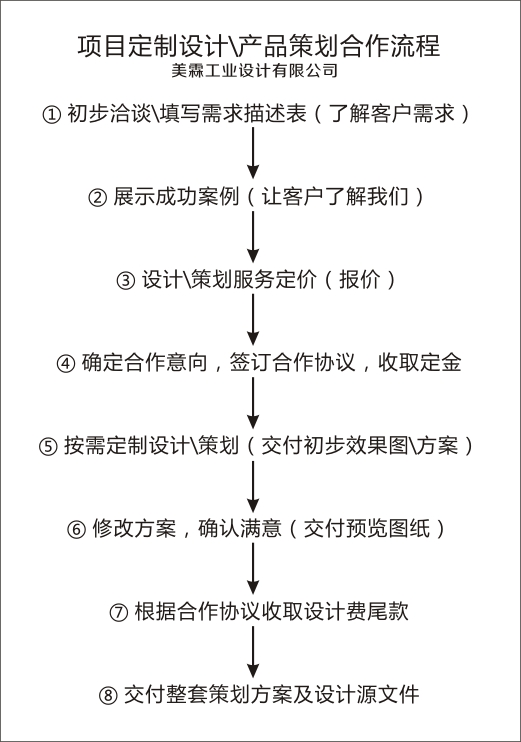 Part of the co-brand: